Emil A. Peters GmbH & Co. KG
Westfalenstraße 85 · D - 58636 Iserlohn
Tel.: ++49-23 71-96 39 66
Fax.: ++49-23 71-96 39 68
This email address is being protected from spambots. You need JavaScript enabled to view it. · www.emil-a-peters.de
Directions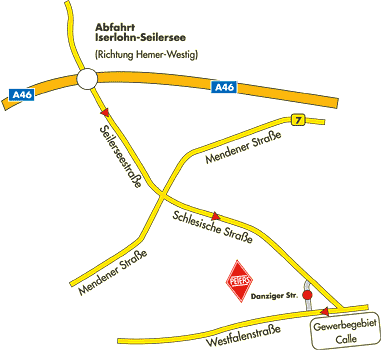 Leave the A46 motorway at the exit Iserlohn-Seilersee and then drive in the direction of Hemer-Westwig, following the Seilerseestraße for approx. 2 km.
You will then come to a junction, where you turn right onto the Westfalenstraße (left: Hemer-Westwig, straight ahead Gewerbegebiet Calle).
After 150 metres turn right into the Danziger Straße and then immediately left into the first yard entrance.
The offices are located on the top floor.
Title